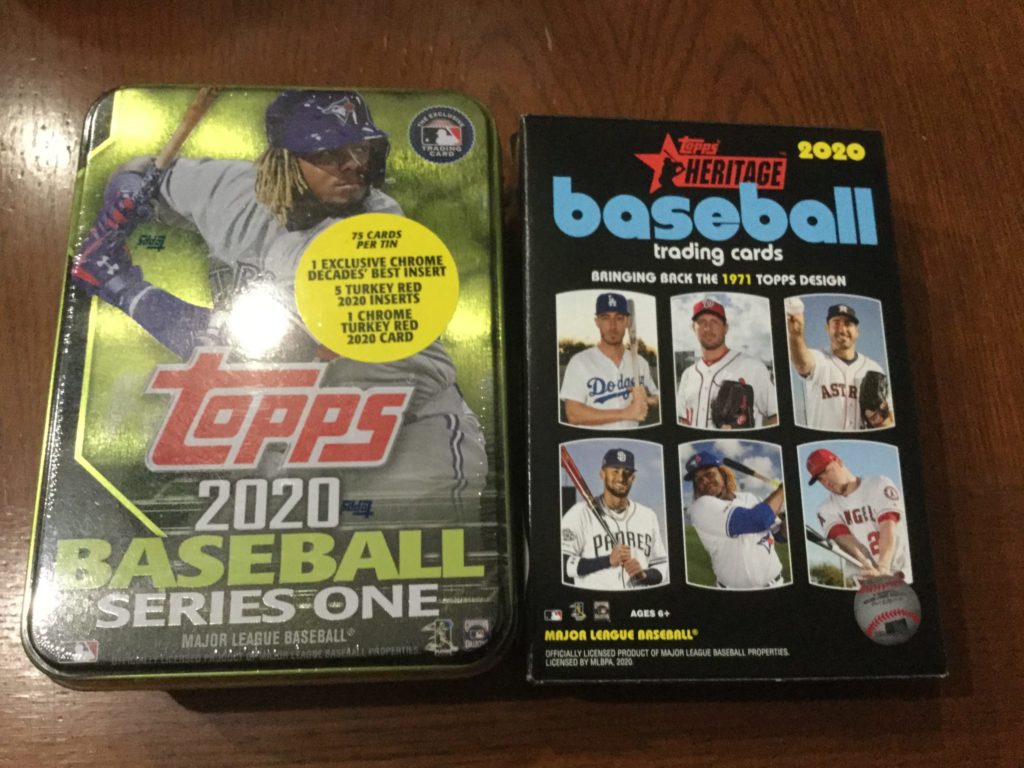 It took me weeks on either purchase, but I finally bought some 2020 cards.
By now, you've seen 'em all, and they're really nothing to write home about visually, so I'm not gonna scan 'em. No, really. I can tell you that my Series One gets were much better than my Heritage ones. I got Vlad, Acuna, Paddack, a bunch of other rookies and stars, the Clemente 35th Anniversary card, Greinke and Josh Bell in my Turkey Reds, and 2 Vlad insert set cards in Series One. I got a Don Sutton Baseball Flashbacks insert in the Heritage box. No high numbers, no players I collect, not much in the way of interesting-to-me rookies or stars. The Heritage cards look a *little* better in person, but not that much. The photography's almost painfully generic, which I've seen other people complaining about more than the font issues. I just don't get how you can take a sure thing like '71 Topps and screw it up. Biggest disappointment of a Heritage set since 2012 (and that one was just me not liking the base design/card stock), and I got a crappy box of it, to boot.
On the Series One front, if you're looking for the following inserts, they're available for trade:
Decade's Next Kyle Tucker 14
Turkey Red Willson Contreras 19
Turkey Red Justin Verlander 38
Turkey Red Blake Snell 85
Turkey Red Chrome Jacob deGrom 65
Decades' Best Tony Gwynn 56
Decades' Best Chrome Phil Niekro 40 (How often has Phil Niekro been on a Chrome card of any kind?)
High priority will be given to anyone offering up these cards from the 2020 Topps 35th Anniversary insert set (not building the set, just want these singles): 8-9, 14, 19-23, 38, 48, 51, 53, 55-56, 61, 64-65, 70, 72-73, 77, 79, 83, 88, 96-98, 100
I probably won't buy too much more, if any more, of either of these. If you're looking to get some old cards for some new cards and have a bunch of doubles (or the 35th Anniversary stuff I'm looking for), get ahold of me, and we should be able to do some trades, at least on the Series One. I honestly shouldn't trade doubles of cards I like for 2020 Heritage. It is REALLY disappointing stuff.
Before anyone asks, I'm keeping the Vlad Jr. tin, to put my weed in or something. (No, I don't actually smoke weed. I'm an old square. It'd be a cool box to keep your weed in, though, if you do that. Not that I'm recommending that anyone do drugs. You have Hollywood to do that for you, or the TikTok, if you're one of the youngsters.)
Also, and I don't think I'm alone here this weekend, but I ran into the 2020 Series One tins in both stores I went to tonight, one of which was a Target, so I'm not sure if they're as hard-to-get as people tried to make them out to be, initially, and they're obviously not Walmart exclusives. I didn't run into any Prizm basketball, though, so that's probably really sold out everywhere.