Yes, I'm doing a dedicated baseball card post over here! (For those wondering why this is a big deal at all, I have another site where I usually do this. I may eventually just move all that other stuff here.)
After a false start yesterday, I found packs and blaster boxes of 2016 Topps Bunt! For those unfamiliar (I've written a bit about it on this site already), Bunt is Topps' digital baseball card trading app. If it seems like a weird idea to you, trading JPEGs or PNGs or whatnot, you're not alone, but that's another conversation. Anyway, this week, for the first time, Topps has issued a crossover physical card product in the Topps Bunt line, and so far, I'm having a lot of fun with it. It's priced affordably (a buck a pack, or 11 packs in a 10 dollar blaster box), the cards (while a bit fragile) look nice, there's good names in the set, fun insert cards, and you can also get code cards in the packs (I was promised 3 on the box, and I got 4!) that unlock digital packs back on the app, with (I believe) exclusive insert cards (again, digital) in them. Here's some of how I did.
These were the best of my base cards. As you can see, a solid if unspectacular base card design (definitely better than Topps' flagship base design this year, though, and better than the planned design for next year, as well). Cool mix of current players and veterans in the set. I got a bunch of my favorite players, and I ended up putting together 1/6 of the set in 11 packs with no doubles!
These were my inserts. Loving the Lightforce set (which they'd done a variation of in the digital Bunt product already), and happy to get some decent players. The Alex Gordon is for trade, and I know I have a Gordon collector who reads my other site, so hopefully they'll jump on it.
This is also available for trade! These come at a rate of 1:105 packs, so getting one in my first 11 is pretty good, I reckon!
As I mentioned, there were scratch-off code cards in 4 of the packs (they mercifully keep the number of insert cards in each pack to 1, for optimal set building), and I've redeemed those already. Let's have a look at what happened there…
This is what it looks like when you successfully redeem a digital pack via your web browser. Over in the app, the packs show up in your "Bulletin" dropdown. I opened them, and here's the best of the best…
Hey, it's a platinum Nolan Ryan! Now, to me, the platinum cards just look like the base cards, but they're super-limited (there were just 21 of the Ryan last I looked). I'm not a Ryan collector in physical or digital (I'll keep a great looking card of his here and there and I keep the ones I need to finish sets, but mostly I flip his stuff for cards of different players who I do collect), so this is being made available elsewhere, along with the cards below that I mention as being stuff I'm unloading.
Billy Hamilton, on the other hand, I do like a bunch! Always did like base stealers (the rookie card of Rickey Henderson, whose cards I've just started formally collecting again, was in my first pack of Topps cards, after all). Keeping it!
The confetti you see in this James Shields picture is what happens when the app is like "HOLY SHIT YOU GOT SOMETHING GOOD!". It's a fairly limited card, but I don't collect Shields. Unloading it.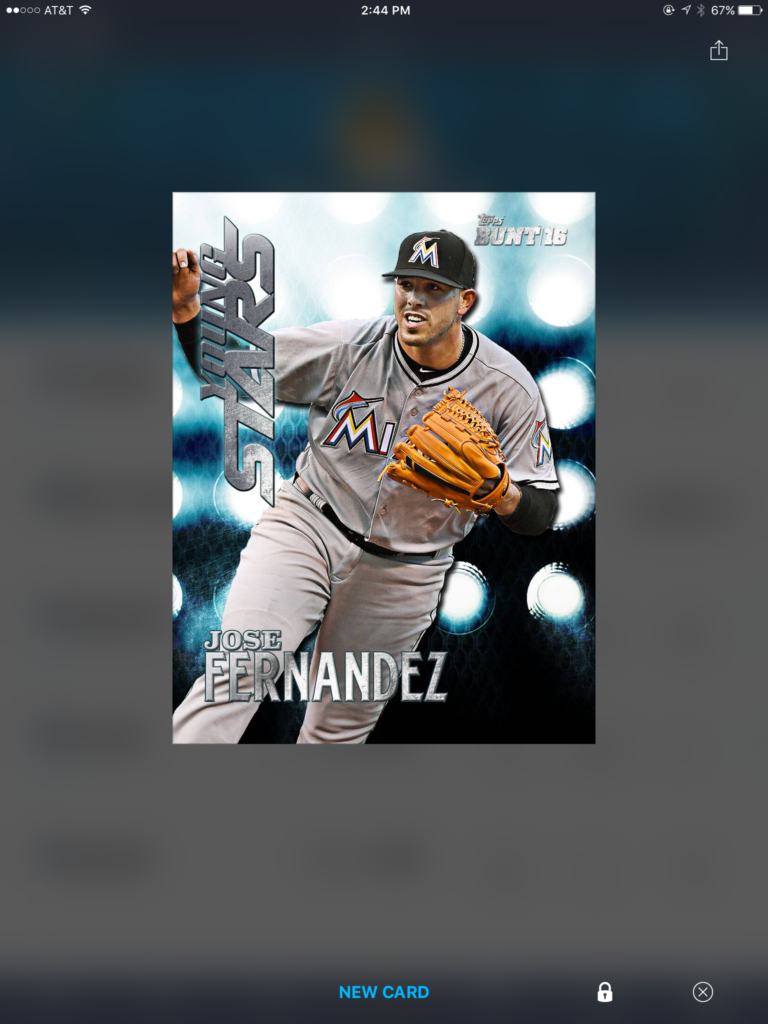 Love Jose Fernandez! Keeping this.
I think Stephen Piscotty's a pretty solid ballplayer, and I've had him on and off my fantasy team a few times now, but I'm not collecting him (I generally don't collect Cardinals players; I've had a grudge dating back to Davey Johnson's Mets…). Unloading it.
Hey, it's a Lightforce! I don't collect Gonzo, though, and I'll probably have a real hard time finishing the digital set, as these are hella limited. Let me look at the checklist and figure out what I'm doing here.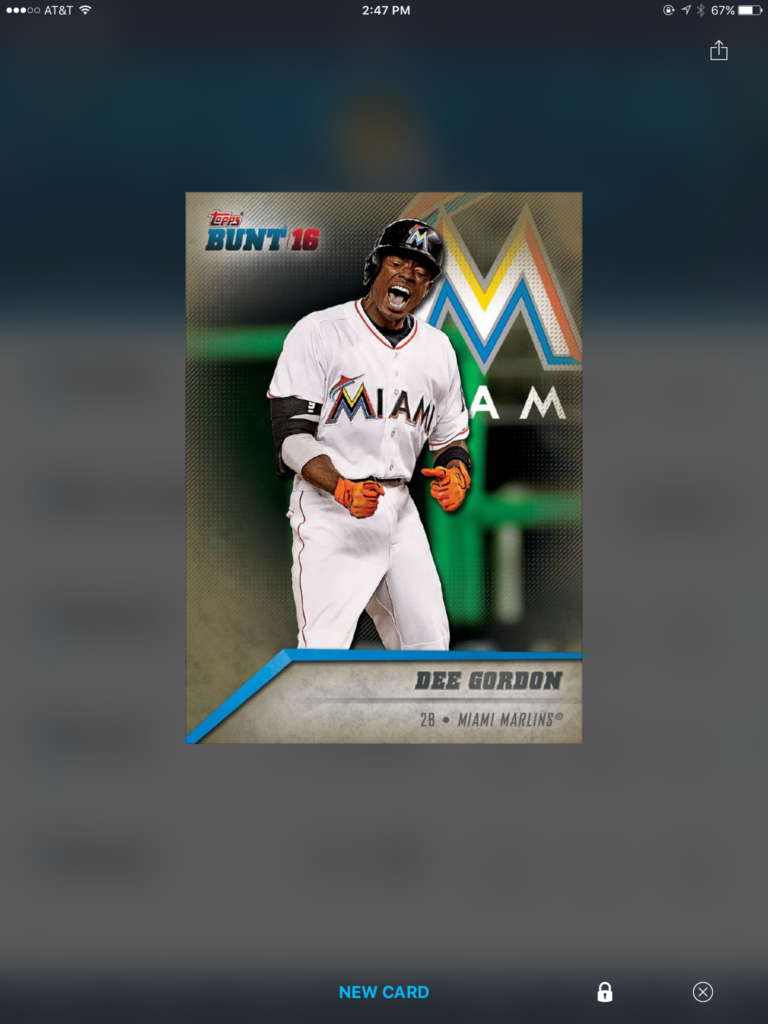 Dee Gordon screwed up this year (or got caught for it this year, anyway), but he has always been a fun player to watch, and this is a fun card. Keeping it, and hoping he keeps his shit together from here out.
BO. Keeper.
These cards score 3X in the Bunt contests (kinda like fantasy baseball, you create a lineup on the app and your players score according to what they do in the day's games), but I haven't been playing contests lately (not enough hours in the day, and the freeplay ones have gotten weak), and I'm not a Votto collector. Unloading it.
Hey, it's one of them new Cubbies that isn't Kris Bryant! Let me put it in the hands of someone who's a bigger fan than I am.
Sometimes, the app gives you "HOLY SHIT" stars, too! Severino's available.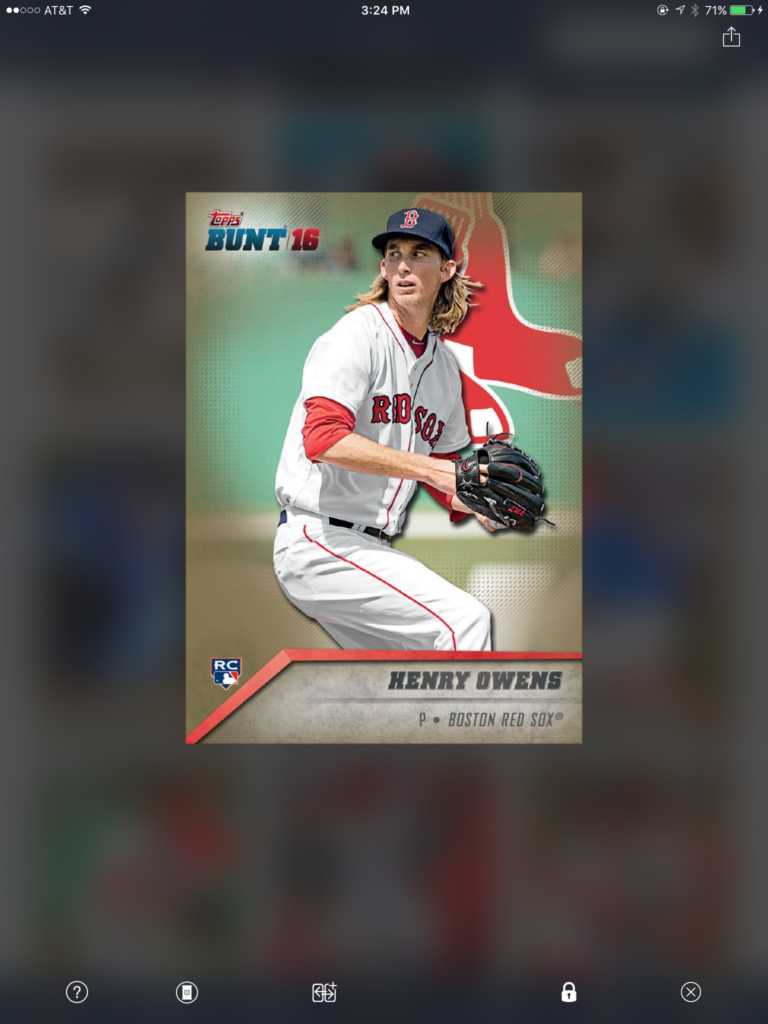 I'm not sure where Boston and their fans are on Henry Owens, who seems to have stalled out a little, but hey, it's a limited card. I'll see what the open market will fetch. Update: it moved before I even finished this post! I guess folks still like him!
More confetti, and I haven't seen enough of Ozuna to really be a fan just yet. Unloading it.
So, remember how I had that Lightforce I was gonna try and trade for another Lightforce (the Luis Gonzalez) up yonder? Well, I found out that Bernie Williams was in the Lightforce set, so I made a trade offer to a few people on the Bunt app, and minutes later…
YAY BERNIE
And that's how I did!
Well, I got a bunch of "base" Bunt digital inserts too (they look like the base physical cards, but are not like the Bunt base, which still resemble flagship; the synchronicity between app and cardboard still needs some work), but you've seen what those look like out here in meatspace already, so there's not much to see there.
So, did I get my $10 worth?
Absolutely!
Best time I've had opening a new trading card product in some time. Lots to like, lots to do. Well worth your money, if you just like to crack open packs and have a good time with this stuff.
Save
Save
Save
Save
Save
Save
Save
Save
Save
Save